Living in Mérida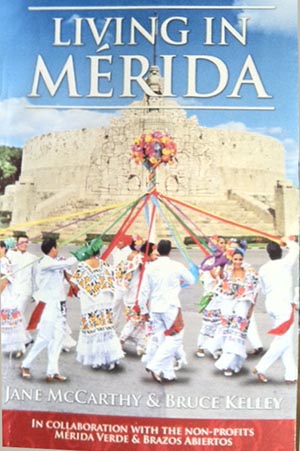 Living in Merida (the Book)
This book has essential information for any expat who lives, or is even thinking about living in Mérida! For example, you can find names and reviews of health practitioners who speak English. It used to be possible to purchase this book using a link to PayPal, but the link no longer works. I believe the second edition may be available for purchase at the Merida English Language Library.

Written by Merida's very own Joanna van derGracht de Rosado. "The book begins with the author's own story, a short, crisp memoir, but most of the book is given over to advice about adapting to living in Mexico from A to Z.
This is NOT a nuts-and-bolts book about moving to Mexico but a step-by-step guide on how to successfully ADAPT to living in Mexico and avoiding the inevitable pitfalls of living in a foreign country, getting along in a foreign language and understanding a very different culture.
Every new or would-be expat or snowbird (those who winter in Mexico) should read this book, even if only considering making a move to Mexico, either full or part-time. Magic Made in Mexico is not only fascinating and fun but is absolutely loaded with invaluable advice on how to successfully live in Mexico...and enjoying it without frustration...Finally, here is a book that takes the culture shock OUT of moving to Mexico."
This online magazine is for expatriates who are living, working and playing in Yucatan, but especially for those who are discovering this unique location as a possible destination for retirement, starting a new business or owning a second home. Yucatan Living is also a favorite resource for people who prefer to explore this region and its special culture beyond what most tourist websites and guidebooks usually recommend.
Yucatan Living covers practical subjects like the immigration process in Mérida. We publish local color stories that reveal the variety of lifestyle choices available to new arrivals. We interview expatriates who already live and work in the area to tell how they made a success of moving here. Of course, we also research local services and offer insight into the common problems people face while adapting to a new culture and language.
Welcome to EscapeArtist's Living in Mexico portal. If you are looking to for information on Mexico to move to, retire in Mexico, buy real estate for Mexico retirement or a second home, invest in real estate, or just want to get to know a bit more about living in Mexico, we are the place to find that information. We have dozens of articles and are adding new information on Mexico and articles every week to help you decide if you want to become an expatriate in Mexico.
We feature information on Mexico for different aspects of living in Mexico, so you can really learn about the distinct benefits and lifestyle that Mexico offers. Additionally we feature different cities and regions in Mexico to help you decide what parts of Mexico fit your lifestyle.
To start we have some great information on Mexico to get your started:
Overview of Living in Mexico
The Benefits of Retiring in Mexico
How to Get Residency in Mexico
Guide to Buying & Owning Real Estate in Mexico
Guide to Renting Real Estate in Mexico
With its narrow sidewalks, cobblestone streets and chalky colonial buildings painted the color of Easter eggs, Mérida is home to a growing number of expatriates. Sitting on the breezy veranda of a hotel that was once a 19th-century hacienda, one expatriate, Ellen Fields, said, "Even though Mérida is a city of almost a million people, it seems like a small town if you're an expat because we all know each other."...
Toward the end of 2003 my husband Fred and I decided to move to Mexico. It was not something we had spent years contemplating. It happened that we were talking about our daughter's plan to move to Mexico and perhaps teach English. We were excited, because we felt it allowed us a new place to vacation.
After three years she still had not made the move. On a cold evening in October my husband said, "You know, we could do that. We could move to Mexico." And so it started...