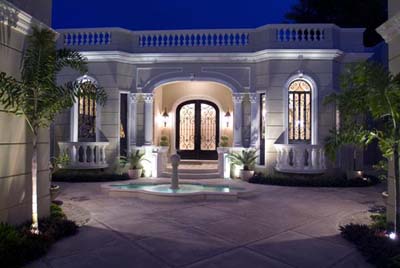 Real Estate in Mérida
Did you ever wonder what lies hidden behind those doors? Step behind the mysterious facades of Mérida, Yucatán, and enjoy firsthand the beauty and majesty of real Spanish colonial architecture – unlike any in the rest of Mexico. These centuries-old residential treasures are being rescued as a new generation of owners rejuvenates them to their former grandeur. The Mérida House & Garden Tour was conceived as a benefit for the Mérida English Library, and is conducted by local resident Keith Heitke...
Many people come to Mérida to investigate and invest in the real estate market these days… what's the attraction? While there are many kinds of properties to choose from, including modern condos and beach homes, probably the most charming properties are the old colonial buildings in the historical center, with lovely European architecture, antique floor tiles and high beamed ceilings that can be renovated into truly special homes. There are old colonial buildings in many large cities in México, but many of the best values are found here in Mérida . Yet, before you buy that fixer-upper and begin renovating, it's good to know a little bit about the architecture here, and the process of renovation. Typical Yucatecan homes are constructed with stone (if they are more than fifty years old) or a combination of stone and concrete block...
Evalynne Engle came to this large yet laid-back southern Mexican city from Nevada, not to battle her home-renovating addiction but to indulge it. "I have a disease called remodeling-itis," said Engle, 61, a retired interior design and painting teacher who moved full time to Mérida this year...
Here are some "facts of life" about the real estate business in México
The environment is extremely competitive!
There is no multiple listing service (MLS).
There are no licensing requirements for real estate sales personnel.
There are no laws defining ethical real estate practices.
There is no forum to resolve consumer protection complaints (e.g., fraud, negligence), short of an outright lawsuit.
Some realtors who came to México with a license from elsewhere continue to abide by ethical guidelines (e.g., disclosures, etc.) that govern real estate practices elsewhere. Others do not...
Nearly every week, we see another article in the press about gringos buying real estate in México. The most recent one is from the Kansas City Star, reprinted from the Wall Street Journal. It's about retired and soon-to-be-retired baby boomers buying real estate in the Yucatan and on the Mayan Riviera...